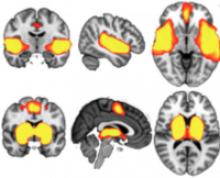 Using fMRI to predict long-term concussion complications
January 30, 2017
A study just published in the Journal of Neurotrauma provides new insight into how functional magnetic resonance imaging (fMRI) can predict long-term abnormal behavioral and cognitive activity caused by concussion.

"Concussions affect millions of Americans every year and the rate of concussions is increasing worldwide," Dr. Pratik Mukherjee, Professor of Radiology and Bioengineering, attending neuroradiologist at the University of California, San Francisco (UCSF) and one of the authors, told HCB News. "The advanced imaging methods [used] to study brain connectivity can be used to detect the pathologic disruption of connectivity after a concussion."
Mukherjee said he has long had a scientific interest in human brain connectivity and the adverse effects of concussion. Concussion is also referred to by scientists as mild traumatic brain injury (mTBI). In the study, the research team at UCSF studied 75 patients, ages 18 to 55, with fMRI and applied sophisticated statistical analysis. Only patients who had been unconscious for 30 minutes or less were eligible; many of the study participants never lost consciousness at all.

The study - the first of its kind - revealed telltale patterns of brain activity that, six months later, were associated with worse performance on behavioral and cognitive tests. This research was built on previous studies related to resting-state brain connectivity.

The findings were different from patterns seen in healthy control subjects. The results held true even for the 44 study participants who had no evidence of brain bleeding or bruising.

"This is an exploratory, proof-of-concept study showing that we can identify patients soon after mild brain trauma who may have more persistent symptoms, despite no other evidence of injury within the brain," said Mukherjee.

According to Mukherjee, lingering adverse effects of concussion include impairment of attention, memory, decision-making, and mood swings. Symptoms include headache, dizziness, nausea, insomnia and tinnitus (ringing in the ears). Additionally, patients may suffer psychiatric effects such as depression and post-traumatic stress.

According to a 2015 report, World Health Organization stats assert that concussion is underreported, but up to 90 percent of reported cases go untreated. Nearly four million sports-related mTBIs occur every year in the U.S., with about 10 percent of patients losing consciousness.

"We are continuing work in an ongoing, larger, multicenter study across the U.S., to prove these initial results, that fMRI functional connectivity can provide better prognostic information than conventional MRI," said Mukherjee.

He added that MRI - especially at 3 Tesla field strength - is also becoming increasingly effective at detecting brain lesions in suspected concussion cases.
Original article: https://www.dotmed.com/news/story/35150