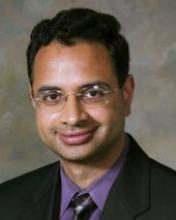 Project to Apply Artificial Intelligence to Imaging of Brain Emergencies Receives $1.2M
UCSF Project is One of Six Selected by the California Initiative to Advance Precision Medicine
When a patient has a neurological emergency, doctors need to see inside the brain with imaging equipment, like CT scanners, to find out what the problem is. Otherwise they will not know how to intervene to save fragile brain tissue, which can die within minutes of a catastrophic event such as a stroke, aneurysm rupture or traumatic brain injury.
Pratik Mukherjee, MD, PhD, and Esther Yuh, MD, PhD, professors of Radiology and Biomedical Imaging at UC San Francisco, are trying to make imaging machines smarter, so they can detect emergencies and triage patients for immediate treatment.
Their project was one of six that was selected by the California Initiative to Advance Precision Medicine (CIAPM) to receive up to $1.2 million in grant funding.
"The idea is to accelerate the detection of emergency features on CT scans of the head, so that critical decisions about patient care can be made more rapidly," Mukherjee said. "These are life and death decisions where minutes count. Anything that accelerates this is crucial and can save lives and reduce long-term disability from these disorders."
Initially, the technology will be used in research, allowing imaging to be more easily incorporated into large-scale studies that determine how to provide the best treatment and care to those who experience a neurological emergency. Since it is cloud-based, it could be used as readily by a physician or researcher in San Francisco as elsewhere in the world.
Gov. Edmund G. Brown Jr. and UCSF announced the six new projects earlier in November. UC Health and UCSF host CIAPM with the Governor's Office of Planning and Research. Each grant awardee is eligible for up to $1.2 million in grant funding, which will then be leveraged with other non-state funding sources to complete the projects. In addition to developing demonstration projects, CIAPM is conducting an inventory of California's vast technological and medical resources that make precision medicine possible. The 2016 Budget Act includes approximately $10 million for the CIAPM.
Original article: http://www.ucsf.edu/news/2016/11/405021/project-apply-artificial-intelli...