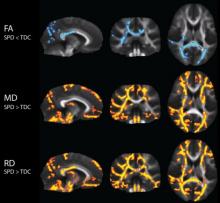 Director of CIND, Dr. Pratik Mukherjee's had his paper, "Brain's Wiring Connected to Sensory Processing Disorder" ranked as UCSF's most popular science story.
Children with sensory processing disorder (SPD) have actual differences in their brain's white matter, which is the "wiring" of the brain. The difference in the brain connectivity predicts challenges with auditory and tactile processing. The findings came after UCSF researchers did the largest imaging study ever with children who have SPD.
Read more about it here:
https://www.ucsf.edu/news/2016/01/401461/brains-wiring-connected-sensory...