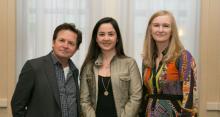 NEW YORK and SAN FRANCISCO, Nov. 29, 2016 /PRNewswire-USNewswire/ -- The Michael J. Fox Foundation for Parkinson's Research (MJFF) announces Duygu Tosun-Turgut, PhD, assistant professor of radiology and biomedical imaging at UC San Francisco and co-director of the Center for Imaging of Neurodegenerative Diseases at the San Francisco Veterans Affairs Health Care System; and Fei Wang, PhD, assistant professor of health care policy and research at Weill Cornell Medicine as winners of the MJFF-led 2016 Parkinson's Progression Markers Initiative (PPMI) Data Challenge. Each will receive a $25,000 award furnished by MJFF and supported in part by GE Healthcare.
The contest asked data analysts to provide a model of either Parkinson's disease subtypes or baseline predictors of progression using data from PPMI, a longitudinal biomarkers study sponsored by MJFF. Such tools could accelerate testing of new Parkinson's treatments by assisting in trial design and subject stratification.
"The Parkinson's Progression Markers Initiative offers a rich pool of open-access data from which to make connections that advance our understanding of Parkinson's disease and impact how we approach drug development," said Mark Frasier, PhD, MJFF senior vice president of research programs. "The award encouraged scientists from other disciplines to lend their expertise to our efforts to find a cure. Drs. Tosun-Turgut and Wang have provided a strong basis to build on."
The PPMI Data Challenge offered applicants the opportunity to partner with Parkinson's researchers to advise on their projects. Collaboration between computational and disease experts can direct analyses toward measures and features most relevant to the field.
PPMI has enrolled nearly 1,000 volunteers to date — people with Parkinson's or with risk factors, as well as control participants — at 33 clinical sites around the world. In the course of a minimum of five years' participation, volunteers contribute clinical and imaging data and biological samples.
GE Healthcare is one of 19 PPMI industry partners that provide financial or in-kind support and intellectual expertise to the study. MJFF and GE Healthcare will continue to collaborate on optimizing the PPMI dataset to develop digital solutions that aim to improve patients' clinical outcomes.
Characterization of Parkinson's Informs Research Directions and Design
Dr. Tosun-Turgut reports that an MRI scan of brain structure and functionality (diffusion tensor imaging) and Unified Parkinson's Disease Rating Scale III (motor examination) total score at baseline are, together, the best factors for predicting slow versus fast progression.
"Parkinson's is a highly variable disease, which hinders clinicians' ability to give patients a clear prognosis and researchers' ability to efficiently measure the impact of treatments on the disease process," said Dr. Tosun-Turgut. "Identifying early clinical markers of rate of progression can benefit clinical care and testing of new therapies."
Dr. Wang outlines three Parkinson's subgroups: (i) progression of both motor and cognitive dysfunction; (ii) progression of cognitive dysfunction (especially long-term memory) but not motor progression; and (iii) progression of motor dysfunction (especially right-hand tremor) but not cognitive progression.
"Characterizing subgroups based on clinical symptoms may allow trial sponsors to test a new therapy, such as a cognition drug, in a subpopulation with greater need that is more likely to respond," said Dr. Wang. "Such classification also opens new avenues for investigations into the pathophysiology of these symptoms."
MJFF will host a webinar on Friday, February 24, 2017, where Drs. Tosun-Turgut and Wang will review their methods and findings. Register to join this live event and learn more about PPMI data analysis at www.michaeljfox.org/research/data-science.html.
Building Infrastructure and Leveraging Expertise to Advance Data Analysis and Findings
Open data access and sharing are core values of The Michael J. Fox Foundation as part of our mission to speed discovery and replication of promising results. Since its launch in 2010, PPMI has made its data available to the broader research community in real time; study data has been downloaded more than 800,000 times. The Foundation hopes to host more challenges with PPMI data in the future and is launching a similar contest in early 2017 with data collected through wearable devices and a smartphone application for a levodopa response study in partnership with Intel. MJFF sponsored an analysis challenge in 2013 with data collected through smartphones.
About The Michael J. Fox Foundation for Parkinson's Research
As the world's largest nonprofit funder of Parkinson's research, The Michael J. Fox Foundation is dedicated to accelerating a cure for Parkinson's disease and improved therapies for those living with the condition today. The Foundation pursues its goals through an aggressively funded, highly targeted research program coupled with active global engagement of scientists, Parkinson's patients, business leaders, clinical trial participants, donors and volunteers. In addition to funding more than $650 million in research to date, the Foundation has fundamentally altered the trajectory of progress toward a cure. Operating at the hub of worldwide Parkinson's research, the Foundation forges groundbreaking collaborations with industry leaders, academic scientists and government research funders; increases the flow of participants into Parkinson's disease clinical trials with its online tool, Fox Trial Finder; promotes Parkinson's awareness through high-profile advocacy, events and outreach; and coordinates the grassroots involvement of thousands of Team Fox members around the world. For more information, visit www.michaeljfox.org.
About UCSF and San Francisco VA Health Care System
UC San Francisco (UCSF) is a leading university dedicated to promoting health worldwide through advanced biomedical research, graduate-level education in the life sciences and health professions, and excellence in patient care. It includes top-ranked graduate schools of dentistry, medicine, nursing and pharmacy; a graduate division with nationally renowned programs in basic, biomedical, translational and population sciences; and a preeminent biomedical research enterprise. It also includes UCSF Health, which comprises three top-ranked hospitals, UCSF Medical Center and UCSF Benioff Children's Hospitals in San Francisco and Oakland, and other partner and affiliated hospitals and healthcare providers throughout the Bay Area. Please visit www.ucsf.edu/news.
The San Francisco VA Health Care System has one of the largest medical research programs in the national VA system, with more than 200 research scientists, all of whom are faculty members at University of California, San Francisco.
About Weill Cornell Medicine
Weill Cornell Medicine is committed to excellence in patient care, scientific discovery and the education of future physicians in New York City and around the world. The doctors and scientists of Weill Cornell Medicine — faculty from Weill Cornell Medical College, Weill Cornell Graduate School of Medical Sciences, and Weill Cornell Physician Organization — are engaged in world-class clinical care and cutting-edge research that connect patients to the latest treatment innovations and prevention strategies. Located in the heart of the Upper East Side's scientific corridor, Weill Cornell Medicine's powerful network of collaborators extends to its parent university Cornell University; to Qatar, where an international campus offers a U.S. medical degree; and to programs in Tanzania, Haiti, Brazil, Austria and Turkey. Weill Cornell Medicine faculty provide comprehensive patient care at New York-Presbyterian Hospital/Weill Cornell Medical Center, New York-Presbyterian/Lower Manhattan Hospital and New York-Presbyterian/Queens. Weill Cornell Medicine is also affiliated with Houston Methodist. For more information, visit www.weill.cornell.edu.
SOURCE The Michael J. Fox Foundation for Parkinson's Research
Related Links